Medium
Explore North Dakota's Initial Unemployment Claims
Find this data and more in the Labor Market Information Center
Medium
Tuesday, April 20, 2021 at 04:00 pm - 06:00 pm
Categories:
Grand Forks
Join the growing team at Cirrus Aircraft and redefine the future of aviation. We're dedicated to offering our team members cross-training and development with opportunities for top talent to advance to the next level within a few months. You'll enjoy a four-day work week with complete benefits and more.
Cirrus Aircraft is currently hiring Manufacturing/Production Technicians
ALL Shifts - $15.50 - $20.50 Per hour DOE (depending on experience). Comparable manufacturing, general labor, assembly, lay-up, composite manufacture considered as experience.
$1.25/HR differential for 2nd shift and $2.00/HR for weekend shift
Monday – Thursday 5:00am – 3:30pm
Sunday – Wednesday 3:30pm – 2:00am
Friday – Sunday 5:00am – 5:30pm (36 hours but paid for full 40 hours)
Open this event link for Event Information
---
Wednesday, May 5, 2021 at 11:00 am - 02:00 pm
Categories:
Grand Forks
Job Service North Dakota and the GFAFB Airman & Family Readiness Center are hosting a
Veteran Virtual Job Fair
for GFAFB Service Members and Family, Greater Grand Forks Veterans, National Guard and Reserves. 
Come meet with area businesses offering a variety of full and part time career opportunities.
Join us virtually 05-May-2021 from 11:00-14:00
Job Seekers
Below are the businesses registered to attend the Veteran Virtual Job Fair on May 5th from 11:00 to 14:00.  Simply click on the link next to the business you wish to visit with and you will be connected to them.  When finished visiting with an employer close out and select another business link to visit. 
You may need to download the Zoom or Teams app if connecting by phone or tablet.  This should only take a few moments.  You can also connect by audio only by dialing the phone number instead.
Airman and Family Readiness Center - https://www.zoomgov.com/j/1610342868?pwd=RVEvUlJXbU9rVVljcWZxaW9iZjFvUT09 
or 1-551-285-1373  Meeting ID: 161 034 2868   Passcode: 199507
Job Service North Dakota - Click here to join the meeting
or 1-701-328-0950  Phone Conference ID: 417 876 213#
Lithia - 
Valley Plaines Equipment - 
Amazon - https://zoom.us/j/4286145489
Cirrus - 
---
Thursday, May 6, 2021 at 09:00 am - 05:00 pm
Categories:
Bismarck
CAREER EXPLORATIONS FAIR
Thursday - May 6 - 9am-5pm
Kirkwood Mall - North Court (enter through the north door by Kay Jewelers)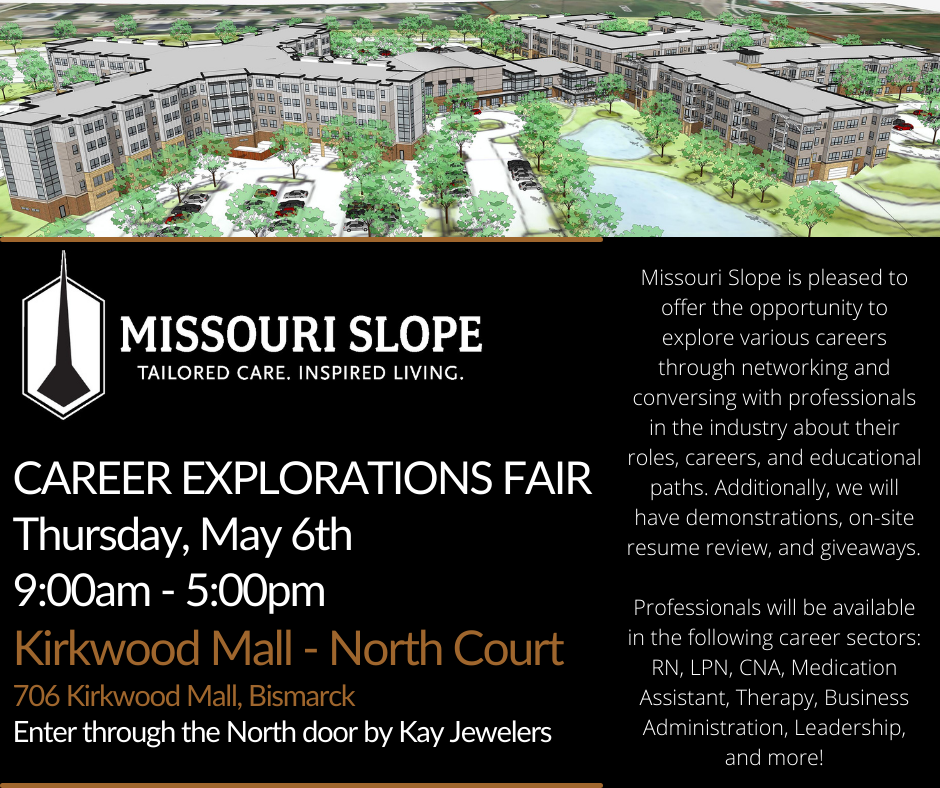 Missouri Slope is pleased to offer the opportunity to explore various careers through networking and conversing with professionals in the industry about their roles, careers, and educational paths.  Additionally, we will have demonstrations, on-site resume review, and giveaways.

Professionals will be available in the following career sectors:
RN

LPN

CNA

Medication Assistant

Therapy

Business Administration

Leadership

....and more!
---