Medium
Bismarck Workforce Center contact information
| Office | Details |
| --- | --- |
| Address | 1601 E Century Ave, Bismarck, ND 58503 |
| Office Hours | M-F 8 am - 5pm |
| Contact | Amy Arenz, Workforce Center Manager |
| Phone | 701-328-5000 |
| Fax | 701-328-5050 |
| TTY | 800-366-6888 |
| Contact | Contact Office |
| Facebook | Follow us on Facebook |
Medium
Thursday, May 6, 2021 at 09:00 am - 05:00 pm
Categories:
Bismarck
CAREER EXPLORATIONS FAIR
Thursday - May 6 - 9am-5pm
Kirkwood Mall - North Court (enter through the north door by Kay Jewelers)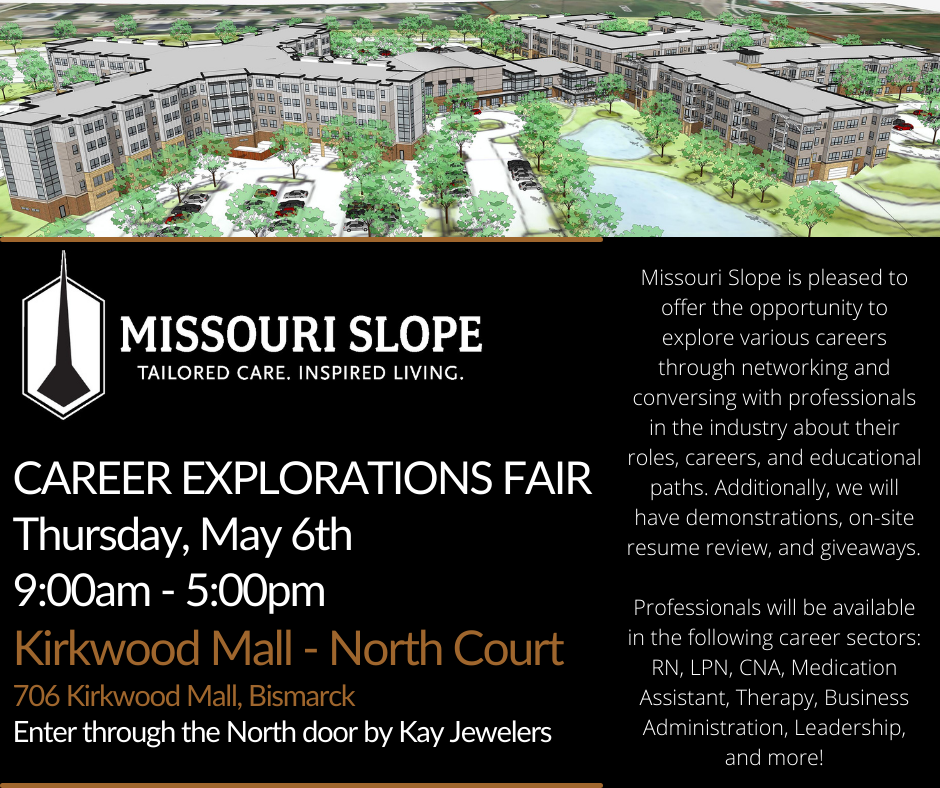 Missouri Slope is pleased to offer the opportunity to explore various careers through networking and conversing with professionals in the industry about their roles, careers, and educational paths.  Additionally, we will have demonstrations, on-site resume review, and giveaways.

Professionals will be available in the following career sectors:
RN

LPN

CNA

Medication Assistant

Therapy

Business Administration

Leadership

....and more!
---