<< All Events
Start: Thursday, April 13, 2023 - 01:00 pm
End: Thursday, April 13, 2023 - 04:00 pm
Categories:
Businesses
To register for the Spring Job Fair click HERE.  Registration ends April 7th at 8 am.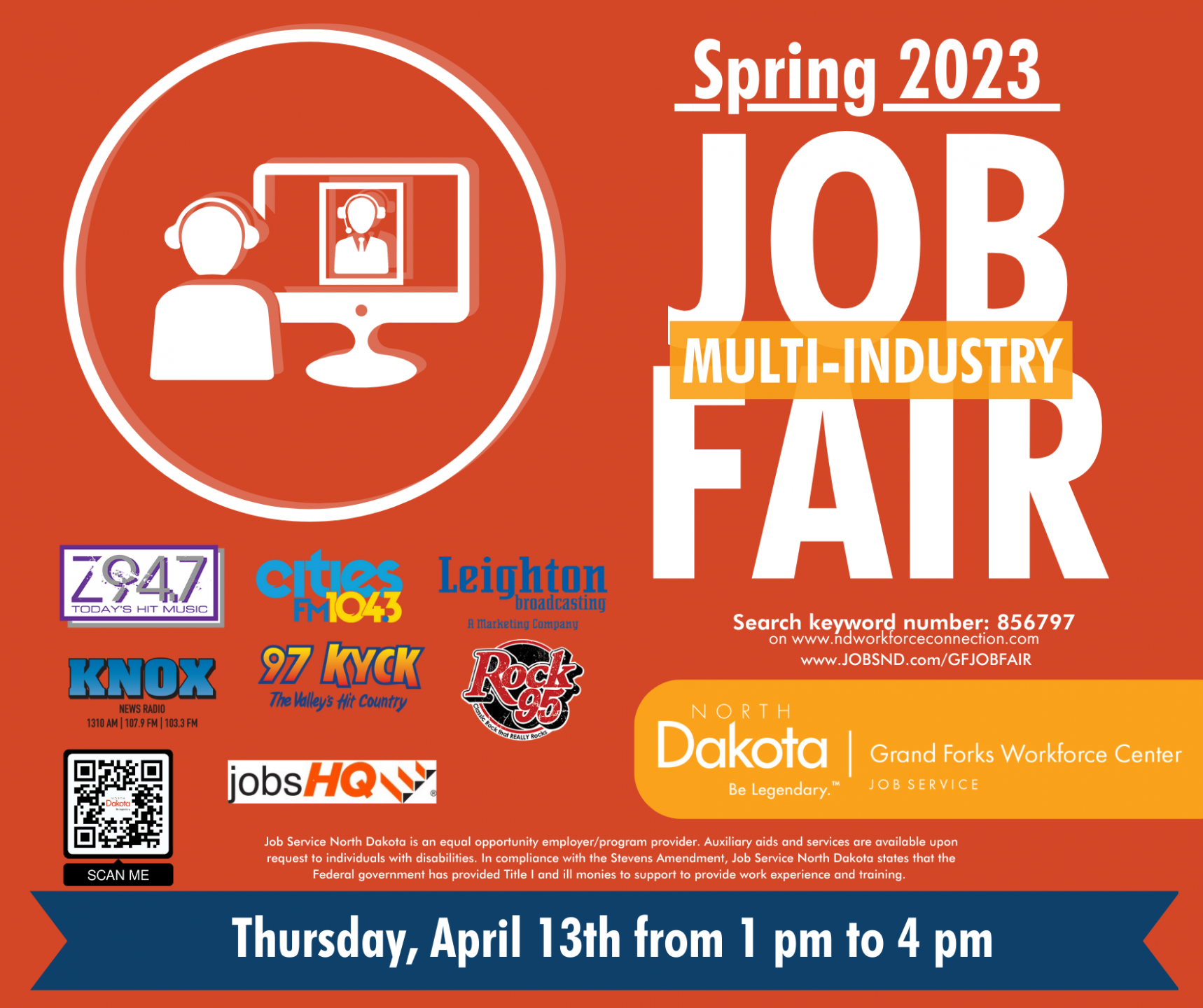 For payment questions, please contact Misty Paul, Sales Manager, Leighton Broadcasting, mpaul@leightonbroadcasting.com or 701-775-4611. 
For event questions contact Misty (above) or Mary Houdek, Business Advisor, Job Service North Dakota, mhoudek@nd.gov or 701-795-3723.
Thank you for registering and we will see you April 13th at the Alerus Center
Job Seekers
Join Us!
Job Service North Dakota, Leighton Broadcasting and JobsHQ are hosting the
Spring 2023 Multi Industry Job Fair
Thursday, April 13th from 1pm to 4 pm
Alerus Center - Grand Forks
Please join us on April 13th to find your dream career

Attending Businesses
(Businesses will be added as they register, so please check back)
| | | |
| --- | --- | --- |
| Business name | What is your company's career website address? | What positions will you be promotoing at the job fair?  |
| 319th FSS NAF Employment | https://usajobs.gov | Child and Youth Program Assistant, Director of Programs, Recreation Assistant |
| Acme Tools | https://www.acmetools.com/careers.html | Variety of Positions |
| Aerotek | www.aerotek.com | Assembly, Warehouse, Forklift, Construction, General Labor |
| Altru Family YMCA | https://www.gfymca.org/ | Full and Part time positions |
| Altru Health System | https://www.altru.org/careers | Cooks, Housekeeping, Food Service, Clerical, Patient Support Services, Phlebotomy, Nursing Assistants |
| American Crystal Sugar Company | https://www.crystalsugar.com/careers/ | Machinist, Web Content Intern etc |
| American Woods | https://american woods.com | Production, builders, sanders, machine operators, application sprayer, saw operator, maintenance |
| Anchor Ingredients | https://anchoringredients.com/careers/ | Warehouse Workers All shifts, Warehouse Worker Lead-Night Shift, Scale House Operators all shifts, CDL Transload Drivers day and afternoon shift, Operators Afternoon Shift, Production Leads- All shifts |
| Carpenter & Millwright Local 1176 | northcountrycarpenter.org | Steel Stud Framers, Drywall Hangers on steel, Concrete Form Carpenters, Piledrivers, Welders, Millwright Mechanics |
| Cirrus Aircraft | www.cirrusaircraft.com | Lay Up and Bagging Tech's, Plycutting Tech's |
| City of Grand Forks | www.grandforksgov.com | Fleet Maintenance Mechanic, 911 Dispatcher, Equipment Operator, Seasonal - Mosquito Control, Seasonal-Equipment Operator, Seasonal- Water Service Worker |
| Dell-Comm Inc | https://...)www.dell-comm.com | low voltage cabling technicains and  operations supervisor  |
| East Grand Forks Police Department | https://www.eastgrandforks.us/Jobs.aspx  | Police Officer |
| Express Employment | https://www.expresspros.com/grandforksnd | Production, Office Services, Forklift, General Labor, and so many more! |
| Forks Lath & Plaster | https://forkslath.com/employment-form/ | All |
| Forks Mobile Wash | https://m.facebook.com/100063920622823/ | Wash Tech |
| Grand Forks Police Department  | https://www.governmentjobs.com/careers/grandforksgov | Police Officers |
| Grand Forks Public Schools | https://www.gfschools.org/ | Paraprofessional, Cook, Custodian, Substitute Teachers |
| HireQuest Direct | www.hirequest.com | event staff, welding, construction, hospitality, manufacturer, production |
| J.R. Simplot  | https://careers.simplot.com/ | Machine Operator, Forklift Operator, Industrial Mechanics |
| Job Corps | https://quentinnburdick.jobcorps.gov/ | Job Training in Certified Nursing Assistant, Office Administration, Carpentry, Building Construction Technology, Culinary Arts, Auto Technician, Welding |
| Kelly Services | https://www.kellyservices.com/ | Various Job Services |
| Lithia CJD of Grand Forks  | https://lithia.wd5.myworkdayjobs.com/en-US/LithiaCareers?q=L0178 | Apprentice Technician, Express Lube Advisor and more  |
| LM Wind Power | https://gecareers.com | Production floor and Engineering intership |
| Lunseth Plumbing and Heating  | https://lunseth.hireclick.com/jobboard/ | Journeyman Sprinkler Fitter, Warehouse Worker, HVAC Tech and more |
| ND Health & Human Services | https://www.omb.nd.gov/team-nd-careers/career-openings | Direct Care Associate, Psychologist, Electrician, Clinician, Peer Support, Occupational Therapy Assistant, Custodian, Cook, Skills Integrator, Addiction Counselor |
| Nextera Energy | https://jobs.nexteraenergy.com/go/Power-Generation-Jobs/2674500/ | Wind Technicians |
| Northern Plains Rail Companies | https://www.nprail.com/careers/ | Cooperate Controller, Cost Accountant,  Heavy Equipment Hauler and more |
| Northrop Grumman | https://www.northropgrumman.com/careers/ | Manager Engineering, Supply Chain, Software Engineer, Aircraft Mission Planner, Systems Engineering |
| Olameter Corporation | www.olameter.com/careers | Locator Technicians |
| OPP CONSTRUCTION | WWW.OPPCONSTRUCTION.COM | CONCRETE LABOR, LANDSCAPE LABOR, IRRIGATION LABOR, PAVING STONE LABOR, ASPHALT LABOR |
| People Ready | https://www.peopleready.com/location/grand-forks-nd-8038-2/ | specializes in quick and reliable on-demand labor and highly skilled workers. PeopleReady supports a wide range of industries, including construction, manufacturing and logistics, retail and hospitality. |
| Retrax | https://retrax.com/careers | Manufacturing, Shipping, Engineering, Supply Chain, HR, and more! |
| Sanford Health and Good Samaritan Society  | www.sanfordcareers.com | RN, LPN, CNA, Medical Coder, Food Service Assistant, Environmental Service- Custodian, Administrator- Long Term Care, Senior Living Sales Specialist |
| STEFFES | www.steffes.com | Welder, Painter coater blaster, Engineers, assemblers |
| Strata Corporation | https://stratajobs.applicantpro.com/jobs/ | Ready-Mix CDL Class B School, Concrete Laborers, Concrete Finishers, CDL Drivers, Asphalt Laborers, Asphalt Roller Operators, Heavy Equipment Operator  |
| Support Systems, Inc | https://www.suppsys.com | Direct Support Professional, Team Leader, Direct Support Specialist |
| True North Equipment | https://www.truenorthequipment.com/about-us/careers/ | Parts sales, diesel technicians, Ag Sales, and many more |
| Upper Midwest Sleep LLC | www.facebook.com/uppermidwestsleep | Sewing Machine Operators, Mattress Assembly, Box Spring Assembly |
| Valley Senior Living | https://valleyseniorliving.org/join-our-team/current-open-positions/ | Dietitian, Registered Nurse (RN), Licensed Practical Nurse (LPN), CNA, Laundry Aide, Overnight Housekeeper, Dining Services Aide |
<< All Events